Landscaping is generally considered adding plants to your yard, changes to the terrain and construction of structures such as outdoor living spaces. New South Landscaping, Inc. has over 28 years of experience providing landscaping to the Raleigh-Durham Triangle and surrounding areas. Our landscaping services can include planning, laying out and building useable spaces for outdoor activities around your home while also offering improvements to help protect the land.
Depending on your needs and the size of the service requested, we can provide on the spot recommendations and computer designed visuals of what the landscaping can look like for larger projects. For those looking to improve their greenery, we can plant shrubs, bushes, trees and grass. When it comes to needing something bigger, especially constructed, view our patio, outdoor kitchen and fire pits services here. How about something more specific to the land such as grading, leveling and drainage? We can help alleviate those issues and improve the situation to the point that you can barely tell we were there! Learn more about those services here. Lastly, we can help maintain your landscaping needs with custom options, visit our maintenance packages here. 
Our landscaping comes highly recommended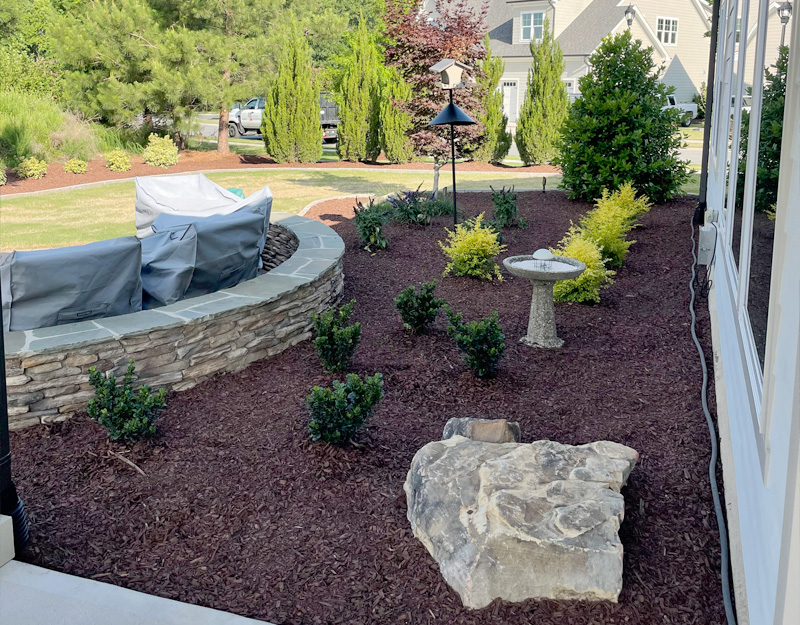 To start, communication is focused on from start to finish. We understand how important it is that you know everything going on especially within your property. Our team keeps you informed and we do show up! Also, there is no worry for you to know the exact solution you need. We advise on the spot, even on the first visit, with no concern of commitment just yet. It is important for you to know what's going on currently within your yard or potential issues that could occur if you don't choose the correct solution. Our services include advising on best solutions, products and future maintenance of your landscaping so you can enjoy your property even further.
Join the many others in the area that have benefited working with us here at New South Landscaping, Inc. Contact us today with whatever landscaping needs and wants you have. We look forward to working with you!